Interview With Dr. Aoyama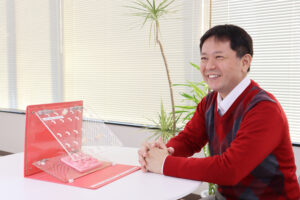 In December, members of the KOTOBUKI Medical media team had the opportunity to interview Dr. Masato Aoyama from Osaka's PL Hospital.

They talked about how and why Dr. Aoyama collaboratively developed the Laparo Binder Trainer with KOTOBUKI Medical, his recent success with a laparoscopic origami challenge, the future of medical training, and more.

About Dr. Aoyama
Dr. Masato Aoyama was born in 1973, at the PL Hospital in Tondabayashi, Osaka. He graduated from Osaka City University's School of Medicine in 2001. In the same year, he joined the Department of Urology at Osaka City University.

After completing his residency at the PL Hospital, he received his M.D. degree in 2008. His career includes serving as the medical director of Osaka City General Medical Center and is currently the Director of the Urolithiasis Center at the PL Hospital.

He is also a lecturer at Osaka City University's Urological Hospital. Dr. Aoyama's hobbies include watching track and field events, attending orchestra and brass band concerts, working on schoolyard turfing, and folding paper cranes.

The Interview

KOTOBUKI Medical: Thank you so much for joining us today. Before we get started, I wanted to congratulate you on making it to the finals of Japan's First Worldwide "Hands of God" Challenge! For our readers who don't know, the "Hands of God" Challenge Finals were held on December 15, 2022, at the Johnson & Johnson Institute in Tokyo. Congratulations, Dr. Aoyama! How did the competition go?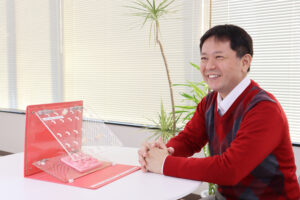 Dr. Aoyama: Simply put, the "Hands of God" Challenge requires contestants "to be able to fold a paper crane accurately and within seven minutes using (laparoscopic) forceps while watching the monitor."

Contestants are judged based on both the time spent folding the paper crane and the aesthetic appearance of the origami. There are also guidelines like, "If the gap between the wings of the paper crane exceeds 4 mm, 10 seconds will be added to the contestant's record."

I participated in the individual competition. Aside from me, four groups of seven people participated. The top contestant from each group was chosen to advance to the finals.

We also had contestants from overseas. One was a professor from Vietnam, and the other was a professor from Mexico. Both participated online.

KM: How do you feel about advancing to the finals?

Dr. Aoyama: My goal upon entering was to make it to the finals, so I was very happy. There was also a chance for finalists to be featured on the NHK's coverage of the event, so that was a good feeling as well. I definitely plan to enter again next year, and this time, I intend to aim for first place.

Laparoscopic Origami

KM: I believe paper crane training (using laparoscopic forceps and a monitor to fold origami cranes in a dry training box) has become a very popular training method lately. How much experience do you have? Please teach us your secret to becoming a master.

Dr. Aoyama: I've been using the paper crane training method since spring of 2021. And my secret to mastering it is…fold as many paper cranes as you can (laughs). At this point, I've folded about 12,000 paper cranes in all. If you can make the time to fold 30 cranes a day, I think you're guaranteed to make progress.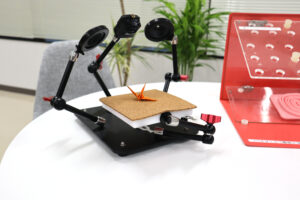 KM: That's a lot of paper cranes to fold in less than two years! How do you typically fold a paper crane? What tools do you use?

Dr. Aoyama: Typically, I'll practice folding cranes four times throughout my day: after my morning commute, during my lunch break, after finishing work but before heading home, and finally one last time when I get home.

Since making paper cranes requires a lot of physical force, I use a strong, stabilized Lapatre K and a free-armed camera stand.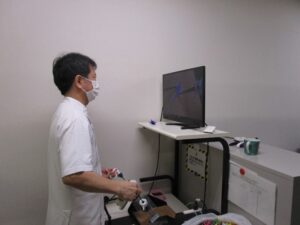 Developing the Laparo Training Binder

KM: You co-developed the Laparo Training Binder, which also recently won a Good Design Award in 2015. Would you tell us a bit about the development process? What really stuck out to you?

Dr. Aoyama: As a graduate school student, I was engaged in some project research for medical device development. Ultimately, our goal was to commercialize the device, but it was difficult to successfully progress from research to commercialization. Unfortunately, that particular project didn't lead to commercialization.

That said, I already had a background in medical device research and development. I was very happy at the chance to develop the Laparo Training Binder. I'd been playing with the idea for some time, and it felt like things were finally coming to fruition.

A fellow doctor introduced me to Mr. Takayama, and I truly think it's thanks to his great enthusiasm that we were able to commercialize the product only six months later. The response to the product after it went on sale was great, I was so moved by the fact that there were people who would actually want to buy it.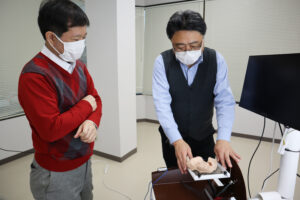 We first met in November 2013, completed the prototype in January 2014, and began selling the product in May 2014.

KM: What would you say the problem with existing dry boxes is?

Dr. Aoyama: Most dry boxes are not easy to carry around, and their price range tends to be too high for an individual to purchase. More importantly, many commercially available dry boxes aren't suitable for training due to their poor video quality. I believe that the Laparo Training Binder is a product that solves all of these problems.

KM: The Laparo Training Binder has sold a cumulative total of 1,600 units since its launch in 2014, making it a major hit in the laparoscopic training niche. What do you think was the key to its popularity?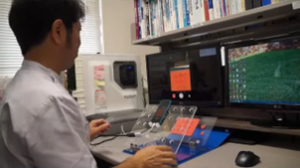 Dr. Aoyama: The quality of its design is the biggest reason. Secondly, the Laparo Training Binder offers the chance to train in a variety of positions. This was the biggest change from my own prototype that Mr. Takayama introduced. He made a port hole that could be accessed from anywhere.

Another key point is that the port insertion area representing the abdominal wall is transparent. This specification allows a direct view of the training space without the need for a monitor. I believe this lowered the barrier many beginners and young doctors faced when it came to laparoscopic training. No other training boxes on the market at that time had transparent walls, so this was a groundbreaking development.

Dr. Aoyama on Urology

KM: By the way, could you tell us a bit more about how you became a urologist?

Dr. Aoyama: It took me eight years to graduate, probably because I played around so much as a university student (laughs). For that reason, I felt that it would be tough to get into one of those big-name departments, such as internal medicine or gastrointestinal surgery. I wanted to enter a department with a narrower scope so I could hone my expertise.

I actually chose urology specifically because my father was in the final stages of prostate cancer at the time. My father never directly discussed my decision with me, but I've heard that he would jokingly boast to his friends, "My son became a urologist to cure my disease!"

KM: Wow, that's definitely a story we'll remember. Thank you very much. What do you find most rewarding about being a urologist?

Dr. Aoyama: Prostate treatment has become my life's work, and I find it to be a very rewarding point in my career. Before beginning laparoscopy, I mainly performed laser surgery on the prostate. Gradually, I started to work with prostate cancer cases as well. I wanted to get serious about laparoscopic surgery, which is why I joined the "Hands of God" Challenge.

KM: What are you currently working on?

Dr. Aoyama: I am focusing on how to efficiently teach total prostatectomy to juniors and young doctors. We have textbooks and other materials, but we would be even happier if we could offer additional practical training methods. So actually, we're currently working on the development of a training model. We want to create a model that will allow people to naturally hone their skills.

KM: For the sake of our readers, would you be able to talk a bit about what kind of model you're developing?

Dr. Aoyama: We're actually developing a prostate model with KOTOBUKI Medical's VTT (Versatile Training Tissue). The fact that VTT allows us to use real clinical instruments like electrocautery is a strong point for the material.

VTT has also been useful for us when it comes to evaluating steam-based treatment techniques for benign prostatic hyperplasia. I'm surprised at how realistically VTT can simulate parts that can't be realistically reproduced with living animals or meat. I feel that VTT has a lot of potential as training material.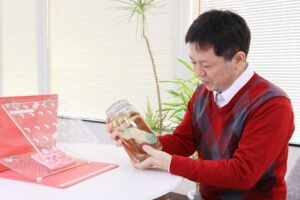 KM: Thank you. What's something you find difficult in terms of development?

Dr. Aoyama: …the only real difficulty is how far away Osaka is (laughs). I've seen so many VTT organ models at this point—lungs, stomach, uterine, and so on—that I'm not at all worried about the feasibility of developing a prostate model.

The Future of Surgical Training
KM: Currently, the market for surgical robots is expanding. As robotic surgery becomes more common, what kind of training do you think will be required?

Dr. Aoyama: Even during robotic surgery, one assistant doctor will contribute to the operation by using laparoscopic forceps at the patient's side. Laparoscopic training will continue to be necessary. In fact, I think laparoscopic training is more important than ever because it also helps us prepare for robotic surgery.

KM: What are your goals for the future?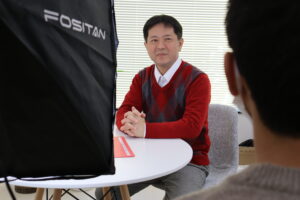 Dr. Aoyama: Next year, I'll be turning 50. I want to continue working hard in my career as a urologist, but I also hope to focus on education. I want to pass on the know-how I've inherited from the older generation of teachers to a generation younger than myself.

Right now, there are fewer opportunities to teach face-to-face due to Covid restrictions. However, if the situation improves in the future, I'd like to start focusing on building connections between young doctors and older, more experienced doctors.

KM: Would you be so kind as to give some advice for the medical students and young doctors out there?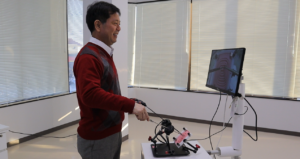 Dr. Aoyama: In the field of surgery, the most important thing is how many surgeries you are physically exposed to. You'll improve your skills by repeatedly watching, practicing, and reading about surgery. This includes surgeries performed by doctors who are good at what they do and doctors who are at the same level as you. If you improve your skills, you will really start to like your work. I hope you all grow to become doctors who enjoy practicing.

Wrapping Up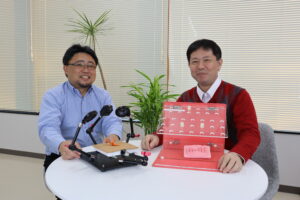 KM: Are there any medical comics or dramas that you recommend? Do you find any aspects of such media to be unrealistic?

Dr. Aoyama: I like local shows like Iryu (Medical Dragon).

As for medical dramas, I like the American show ER. In terms of reality, there always seems to be some sort of medical advisory for the shows, so I'm not too uncomfortable with the realism in those shows.

Many thanks again to Dr. Masato Aoyama for taking time from your busy schedule to speak with us! We look forward to the reveal of the VTT Prostate Model.