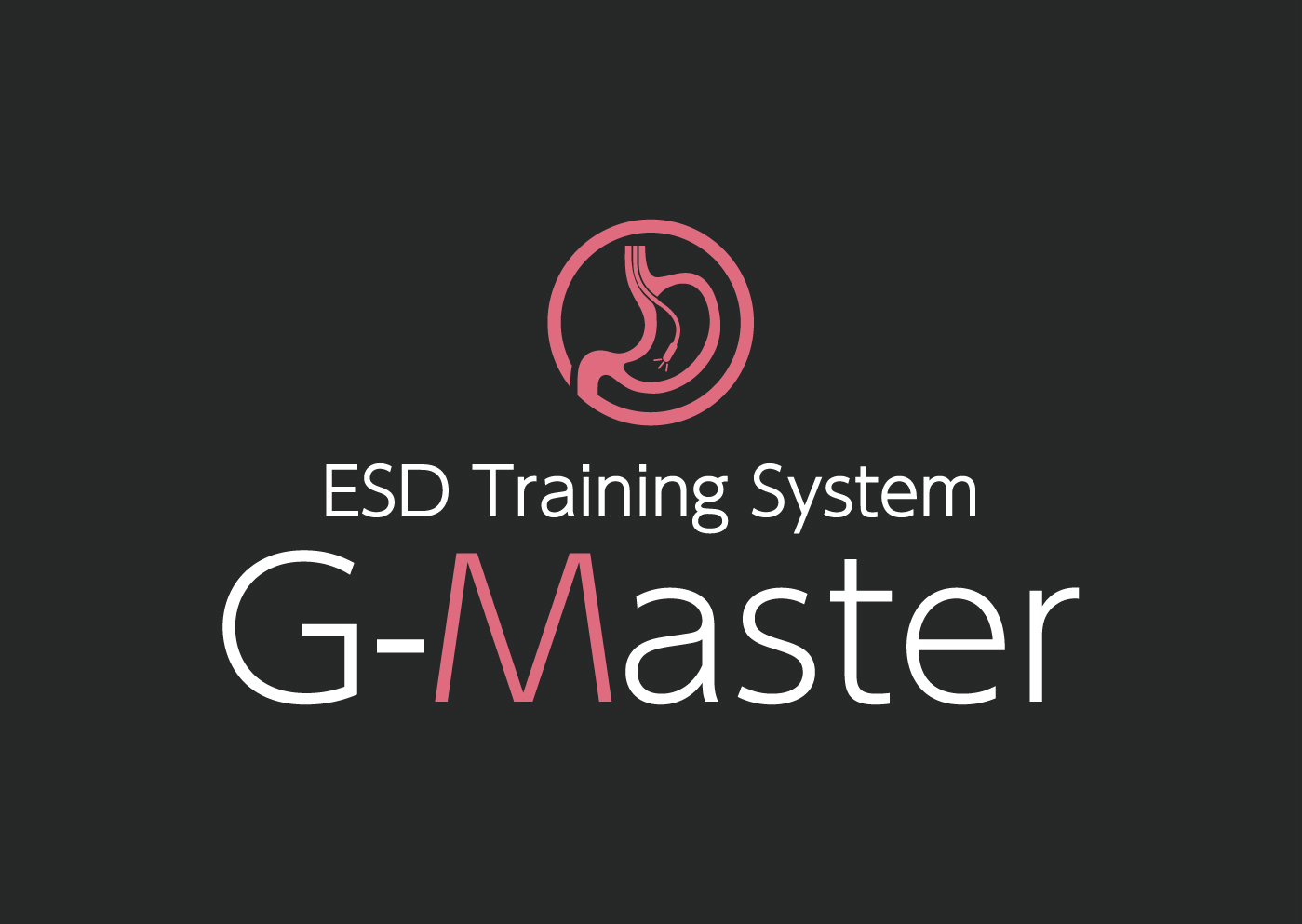 The next generation ESD
training system is now born.
"G-Master" is an innovative ESD training model developed with KOTOBUKI Medical and National Cancer Center East Hospital. (Patent pending)
"G-Master," which can accurately and flexibly reproduce specific gastric cancer sites, is set with a mucosal model of VTT (Versatile Training Tissue), a plant-based simulated organ for surgical training. Using the special swelling fluid(VTT Injection Solution), you can effectively train the series of procedures from the local injection, incision, and dissection in a clinical manner.
In addition to individual training, "G-Master" is also ideal for interactive training where the trainer can (1) learn the trainee's technique and (2) provide feedback on the trainee's technique, as the endoscopic movements can be checked from multiple angles and in detail from the outside.
3 Features of G-Master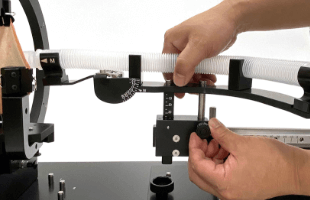 An adjustment mechanism that can accurately reproduce typical gastric cancer locations (also reproduces the loosening of the stomach wall during degassing: air volume control of gastric).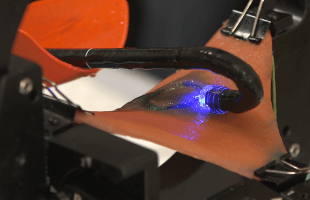 The movement of the endoscope can be clearly seen from the outside because it only partially reproduces the stomach wall where it is needed.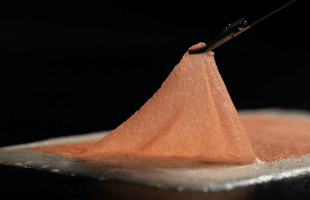 The VTT MUCOSA TYPE that reproduces the stomach wall is plant-based. It is hygienic, can be used at any training location, and disposed of as general waste after training.
Click here for G-Master setting
G-Master Technique Video
Joint Development

"G-Master" is an innovative ESD training model developed with KOTOBUKI Medical and National Cancer Center East Hospital. (Patent pending)
Comments from doctors at National Cancer Center East Hospital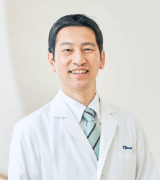 Chief, Department of Gastroenterology and Endoscopy / Director, Endoscopy Center

Tomonori YANO
The gastric morphology is very complex and unique, and the way of approaching and treatment strategies are formulated differently depending on the site of the patient's cancer. One of the main features and strengths of the G-Master is that it can reproduce various parts of the gastric, which was not possible with ESD training using pig excised organs.
Another feature of the G-Master is that it does not use animal organs, so training can be done in an actual endoscopy treatment room, eliminating infection and environmental contamination concerns. Typically, when we use organs from animals, we have to prepare a particular environment, but G-Master allows us to train in an actual treatment room using actual instruments, which is a tremendous advantage for gastroenterologist.
The National Cancer Center Hospital East staff and members spent much time recreating various gastric parts in developing the G-Master. As a result of trial and error, we have created a perfect product that already incorporates ESD treatment strategies of the National Cancer Center Hospital East.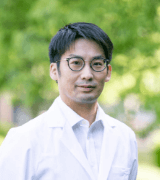 Assistant Chief, Department of Gastroenterology and Endoscopy/ Staff Physician, Endoscopic Device Innovation Office , NEXT Medical Device Innovation Center

Yusuke YODA
The concept of the newly developed G-Master is reproducibility. The G-Master can reproduce various gastric parts, which was impossible with conventional animal models or non-animal models made of plastic or silicone, making it a good training model for beginners and intermediate users.
Learning ESD requires years of experience, and there are few opportunities to practice, but we believe that the G-Master will increase training opportunities and provide better medical care to patients.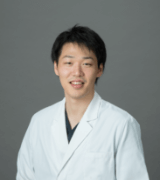 Chief resident, Department of Gastroenterology and Endoscopy

Hironori SUNAKAWA
The VTT MUCOSA TYPE used in the G-Master is non-living, making it very hygienic and contamination-free, and it can reproduce various parts of the stomach. Both doctors and patients need to increase the learning curve slope in a limited number of cases. By being able to recreate and practice the part of the patient to be treated beforehand and reviewing the results after the surgery, the learning curve for a single case can be expected to increase significantly. The National Cancer Center Hospital East has a vast number of gastric ESD cases. However, there may be a gap of time in facilities with a small number of cases. We believe that regular training with the G-Master effectively ensures that the acquired skills are not forgotten even when there is no ESD surgery.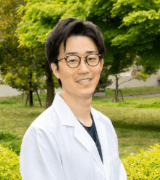 Chief resident, Department of Gastroenterology and Endoscopy

Tomohiro MITSUI
There is an impression that we have created a model of what it would be like to have such a product to improve ESD techniques—training with the G-Master before the actual surgery is expected to provide smoother and safer treatment for patients.
Since G-Master is a product that can be used to train gastric ESD at any time and place, we recommend that beginners use it. I hope that people like me, who have some experience in ESD but still have difficulties in some areas, will use it for preoperative simulation and training.
Product Specifications
Product Name
G-Master
Product Number
GM0001
JAN Code
4562480971066
Size (Main Unit)
W 635 x D 300 x H 310 mm
Weight (Main Unit)
Approx. 7.5 kg
Size (Carton)
W 750 x D 410 x H 430 mm
Weight (Includes the carton)
Approx. 11.1kg
Product Composition

G-Master x 1 pc
Spatula x 1 pc
VTT counter electrode cable x 1 pc
VTT MUCOSA TYPE x 3 pcs
VTT INJECTION SOLUTION x 1 pc
Two types of cleaning brushes x 1 each
Water-based marker x 1 pc
User's manual x 1 pc
Setting sheet x 1 pc

Supervisor
National Cancer Center East Hospital
How to Use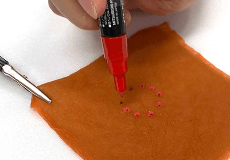 Mark the VTT MUCOSA TYPE with an electrocautery scalpel and make the marking area visible with a water-based pen.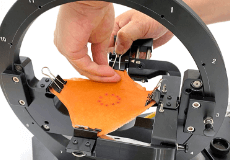 Return the mucous membrane holding arm to the SET position and fix the VTT MUCOSA TYPE with the four clips.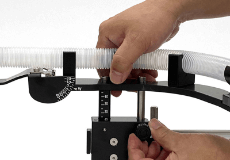 Depending on the area you want to practice, adjust each part of the body according to the setting sheet.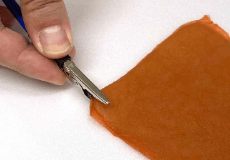 Connect the VTT MUCOSA TYPE to the electrocautery unit with the supplied counter electrode cable.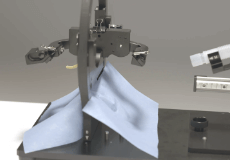 In order to prevent contamination by the VTT INJECTION SOLUTION, cover the area with a covering cloth cut to an appropriate size.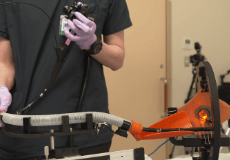 Please start the training procedure. After using VTT MUCOSA TYPE, please dispose of it as general waste.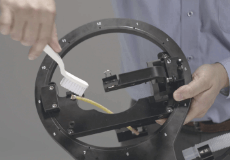 Please use the brush provided with the product and wash it with water or wipe it off, as leaving the product unattended may cause VTT INJECTION SOLUTION to harden and break down.
Caution
If you leave the liquid (VTT INJECTION SOLUTION) on the unit, it may harden and cause a malfunction.
Click here to check the setting
Colon Conversion Kitfor G-Master

The ESD training G-Master unit now has a high-fidelity colorectal ESD add-on.
From stomach to colon in one simple step
Colorectal ESD training is as simple as replacing the gastric endoscopic port with the Colon Conversion Kit.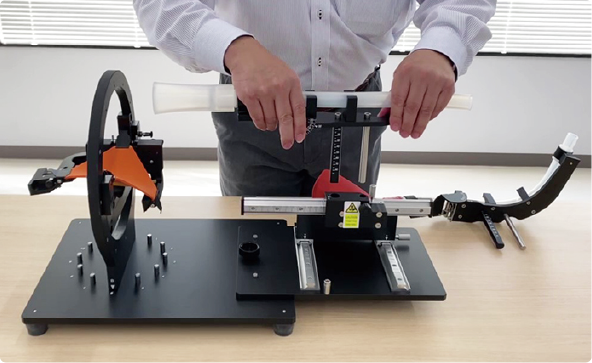 Simulates the use of gravity for traction
The effect of gravity on tissue tension can be reproduced by adjusting the VTT Mucosa Tissue Model's position.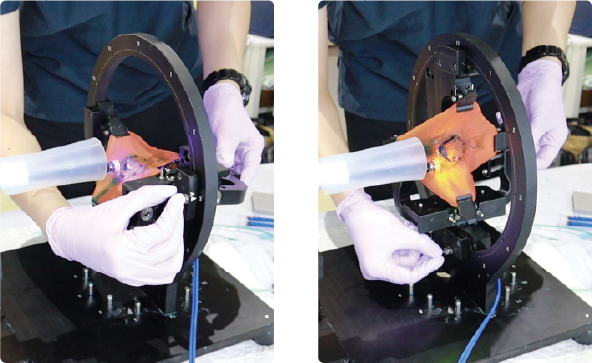 Practice a variety of ESD techniques
Use the included traction sponge to practice specific techniques like clipping with counter-traction.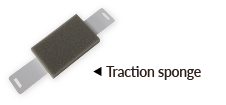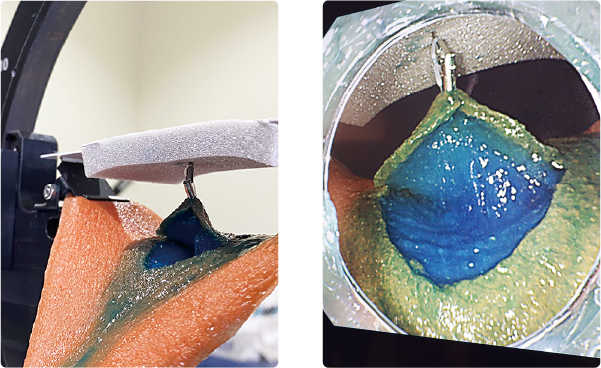 Product name
Colon Conversion Kit
Product No.
GM-COLON-CVKIT
Price
Please request a quote.
Dimensions
W35cm × D5.5cm × H15cm
(Traction sponge: WlS x D4 x Hl cm)
Product No.
Colon Conversion Kit entry port x 1,Tube strut x 1,Traction sponge x 1
Inquiry / Quotation
If you have any questions about "G-Master" or would like to request a quote, please contact us.
Notes on your inquiry
Your personal information will be used to respond to your inquiry and to provide you with information.
We may not be able to respond to your inquiry if you do not provide your personal information correctly or depending on the contents.
Please note that it may take some time for us to respond to your inquiry, depending on the contents.
You may not reprint or forward your responses for secondary use, as they are sent to you personally.
If you would like to interview us, please fill in the following items in the "Inquiry" field. (Name of the program, media, content of the interview, date of publication, broadcast schedule, etc.)
If you do not receive a reply within three business days, there is a possibility of non-delivery of email for some reason. Please contact us by phone if you are in a hurry.
Document Download
Setting Sheet
Colon
Colon Conversion Kit setting sheet
Gastric
User's manual
User's manual
Flyer
G-Master Flyer
Colon Conversion Kit Flyer
Purchase of consumables
To purchase consumables, please contact the distributor where you purchased the G-Master.
You can also purchase consumables at our direct sales site(https://kotobuki-medical.myshopify.com/).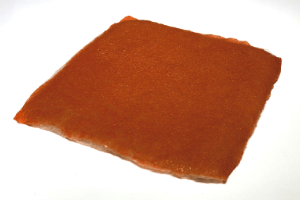 VTT MUCOSA TYPE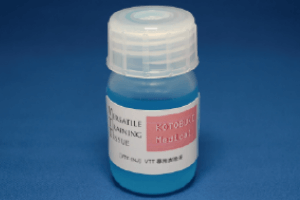 VTT INJECTION SOLUTION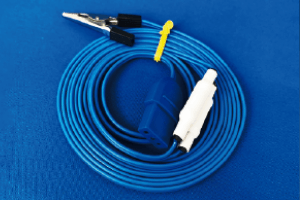 VTT counter electrode cable